Welcome teachers
Request your ID and start uploading
On this page, teachers are guided through the process of applying for an ID by means of a manual. With this ID you can logon to SURFSharekit. Follow the rest of the manual to upload your e-learning material.
Teacher guide on copyright and metadata
Find information on how to deal with topics like copyright and the use of metadata be found at the teacher guide page. Other topics like ownership and the general outline can be found here as well.
Manual
Request access to SURFsharekit at: https://teams.surfconext.nl/teams/42376/details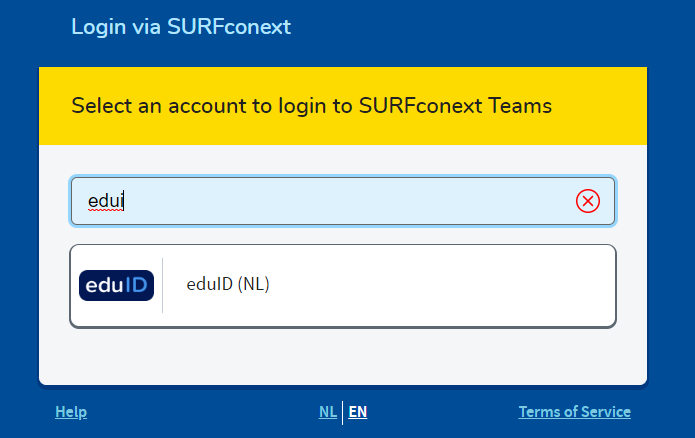 Choose eduID
An eduID is an account for users within education and research in the Netherlands and beyond. It belongs to you, and exists independently of an educational institution.
** UU users can use their Utrecht University account to login to SURFconext.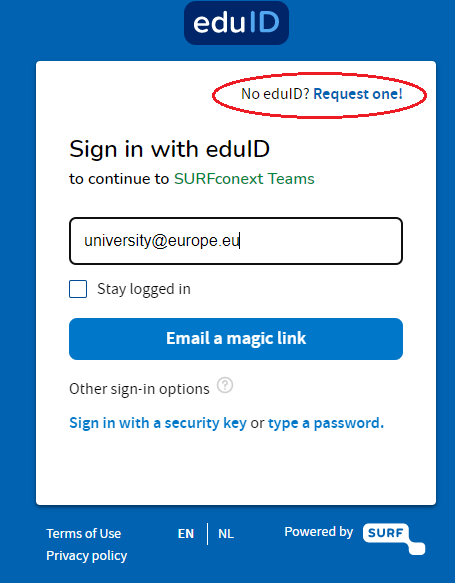 2. If you have not yet created an eduID, click on "Request one!" at the top.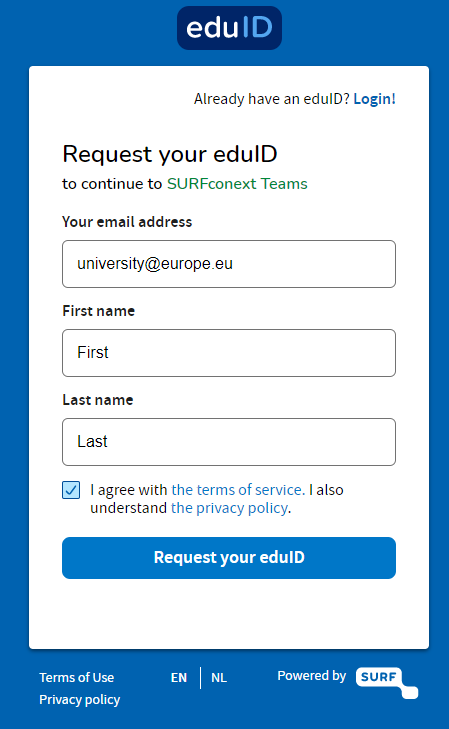 3. Enter your e-mail address, your first and last name, and read the terms of use carefully.
4. Check the box 'I accept the terms of use' if you agree.
5. Click 'Request your eduID'.
You will now receive a confirmation email in your mailbox. The verification email may end up in your spam, so check your spam folder if the email does not appear in your inbox within a few minutes.
In the e-mail, click "Confirm Now" to create your eduID account.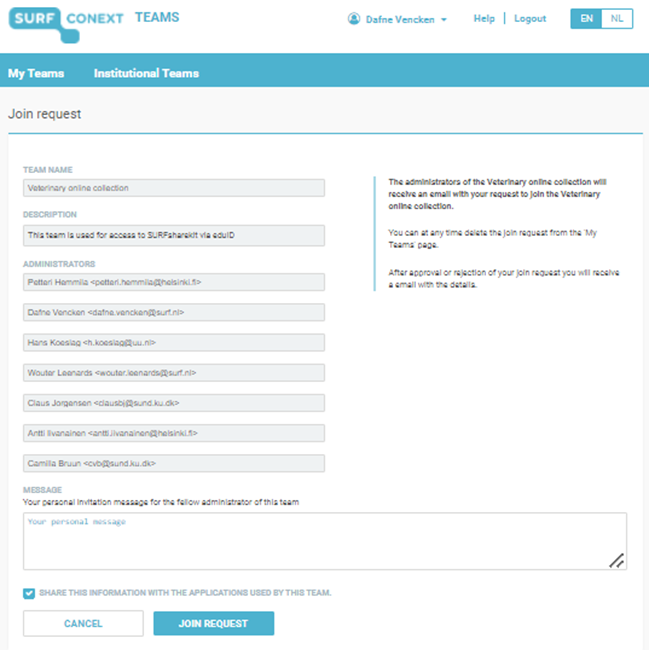 3. Request access to the Veterinary Online Collection and click "Join request".
The local admin approves or denies your request. Each participating university has its own local admin:
Utrecht University: Hans Koeslag
University of Copenhagen: Claus Bøttcher Jørgensen
University of Helsinki: Antti Iivanainen and Petteri Hemmilä
Proceed to step 2 of the manual.
When your request is approved, you can log in to SURFsharekit for the first time.
Go to https://surfsharekit.nl/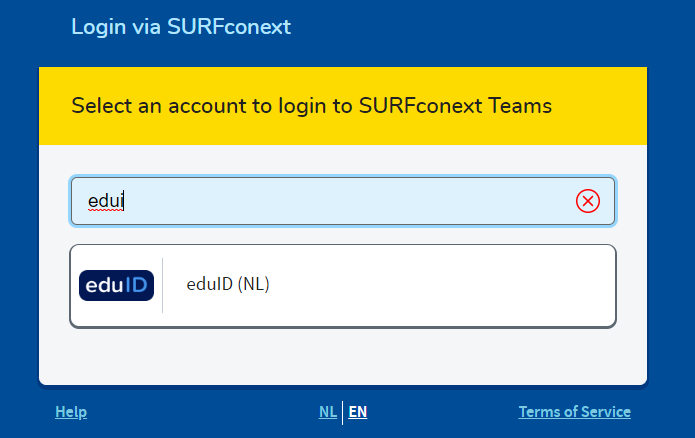 2. Click on the login button.
3. Choose eduID.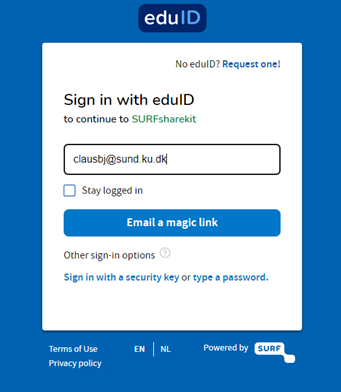 4. Click on the button 'Email a magic link'.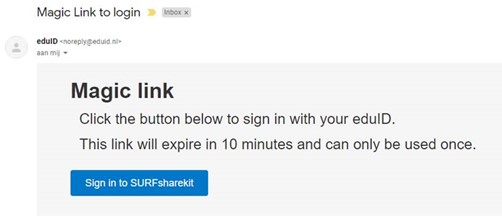 5. Open your email account, open the email from eduID and click on the button 'Sign in to SURFsharekit'
Important: inform the admin that you have logged in. He or she can grant you permissions to publish your materials and give you instructions on how to upload.
Proceed to step 3 of the manual.
1. Log on to SURFSharekit with your EDU-ID. (UU users use their Solis-ID).
2. In the dashboard choose 'New publication'.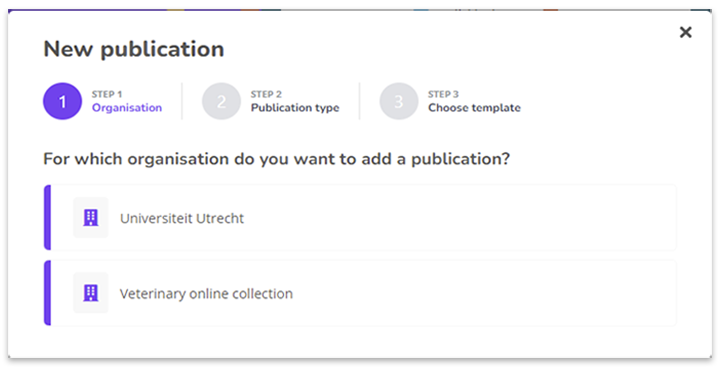 Important:
At the popup screen 'For which organisation do you want to add a publication?' choose 'Veterinary Online Collection'.
Only this choice will show you the correct template to use.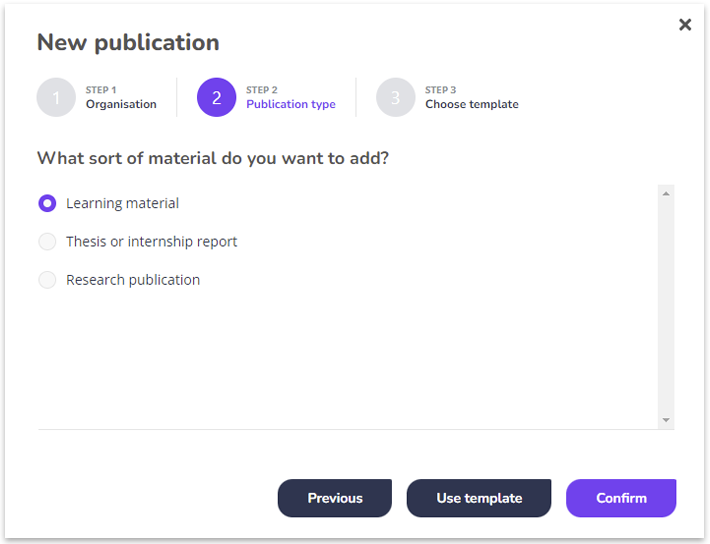 3. At 'What sort of material do you want to add?' choose 'Learning material'.
4. Click "Confirm".
5. The template loads into your screen. This may take a few seconds.
Add a Title.
Add a Summary to describe your content. Add the time frame and student interaction to the summary as well.
At Keywords, type an appropriate keyword and press ENTER. Add more keywords if necessary. Use keywords on which the material should be found on Edusources.
At Publisher(s), choose at least "Veterinary Online Collection". More publishers can be added.
At Theme, choose "Health" and/or "Education".
At Educational level, choose the appropriate level of education. More educational levels can be added.
At Language, choose the correct language. You can only choose one language.
At Terms of use, choose the correct licence. More info on used licences can be found at the "

Teacher info

" page.
At Usable as, choose the correct type of lesson.
At Intended user, choose from "lecturer", student" or "author". Multiple choices are possible.
At Files, upload the correct file(s) from your local computer or cloud application.
At Links, add a optional URL that refers to the publication.
Important:
7. At the section "Portals" of the template always choose only for "Publish privately via Edusources".
This way the published material can only be accessed on Edusources when you have an account (Edu-ID / Solis-ID).
Otherwise the whole world can see your content.
8. At the section "Publish" of the template, check the author consent. The first consent is mandatory. Check the rest of the boxes if applicable.
9. Finally hit the 'Save and publish' button.
Your published material is available after 5 minutes on Edusources.nl.
The local admin of Utrecht University (Hans Koeslag) will add your material to the community on Edusources.
Again, everyone can see the metadata on Edusources, but when we publish internally on Edusources, only members with an SURFsharekit account can actually download the material. No one else can.